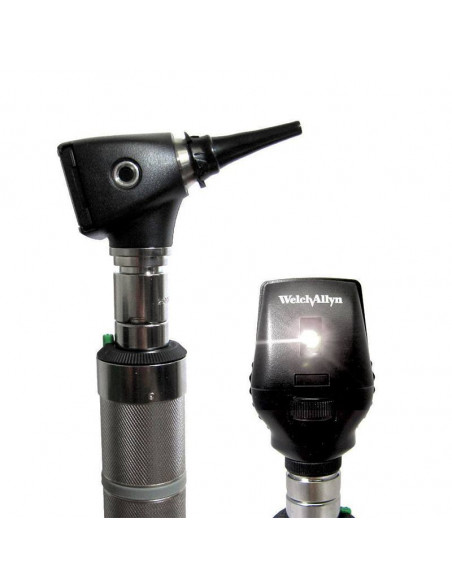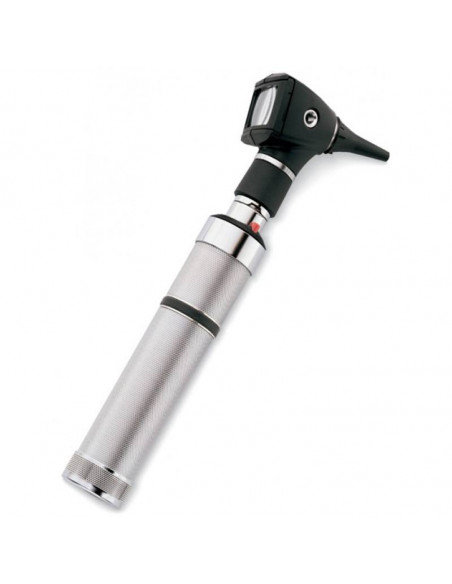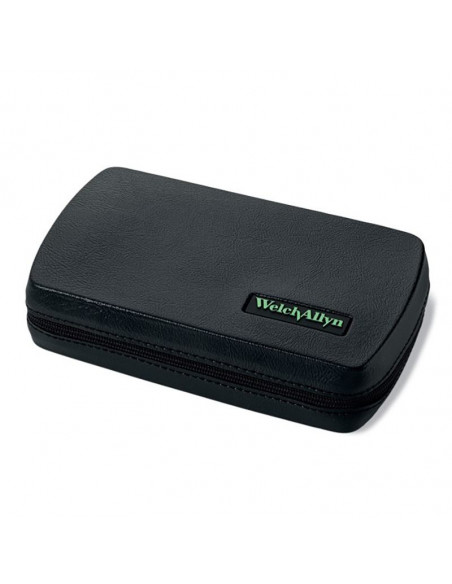 97150-BI Welch Allyn Diagnostic Set consisting of a professional quality otoscope and ophthalmoscope for medical practitioners and students at a very reasonable price. Featuring 3.5v Otoscope with Halogen lamps and Fibre optics for true tissue colour and no reflection. Widely used in surgeries and clinics for day to day patient examination. It is supplied with a compact carry case and uses generally available 2x C - size alkaline batteries as it's power source. Thus, it is also a completely portable diagnostic set which can also be easily carried in hand or in a medical kit bag.
COMPLETE SYSTEM CONSISTS OF :
NO. 01-11710 – 3.5V HALOGEN  OPTHALMOSCOPE 
Halogen bulb gives consistent white light for observing true tissue colour
Six apertures for general & specialist uses.
28 lenses with – 25 to 40 diopters for better resolution
Lens dial illumination clearly identifies setting.
Rubber brow rest prevents scratching of spectacles.
NO. 25020  - 3.5V  HALOGEN OTOSCOPE
HPX bulb gives consistent, 30% brighter white light for observing true tissue colour
Fiberoptic for cool light with no reflection  or obstruction
Wide angle viewing lens for instrumentation under magnification
Sealed system for pneumatic otoscopy
24400 set of specula
NO. 71021-B - 3.5V HANDLE 
Rheostat control allows smooth variation of light intensity
Uses 2 x ea 'C' size batteries.
Knurled chrome finish for secure grip
Positive  ON/OFF switch with audible "click" helps avoid accidental drainage of batteries
Diagnostic features

Insufflation Port
Red Free Filter

Illumination

Halogeen

Type of Battery

C-Cell Battery

Type of ophthalmoscope

Standard

Voltage

3.5v

Type of otoscope

Diagnostics

Color

Black

Brand

Welch Allyn

Guarantee

10 Jaar

VAT

21%

Delivery Time

Ordered before 17:00 is delivered the next day.